About Us
---

On this page:
---
Since 1982, Aerocon (Aerospace Consulting) Engineering has delivered a full range of engineering support and Federal Aviation Administration interface services for the Aviation Industry. From design and analysis through FAA certification for small and large transport aircraft, our proven performance and reliability as an independent provider of specialized engineering, flight test and certification services offers you total support with only one phone call.
Staff
Our staff represents over 30 years of aviation engineering experience and expertise, offering on-site Designated Engineering Representatives (DER) and Designated Airworthiness Representatives (DAR), appointed by the FAA. These capabilities are supplemented by a staff of scientists and consulting engineers providing specialized assistance in structural analysis, aerodynamics, thermodynamics, physics and materials research. Our staff of DERs and DARs are fully acquainted with the Federal Aviation Regulations (FAR) and the procedures required to take your project from inception to final certification. With authorization to approve, or recommend for approval, engineering drawings, structural analysis and other data directly related to your aircraft structures and systems by the FAA, delivery time of certification is expedited.

Return to top
Equipment
Our staff has, at their disposal, modern engineering computer facilities and advanced structural engineering programs including, but not limited to, MSC.FEA, MSC.PAL2, COSMOS and NASTRAN, delivering analysis of the most complex aircraft structures. Designers work in numerous 2D and 3D CAD environments, including CATIA and AutoCAD. Aerocon's experience includes design and analysis of airframe structures, from installation of new cargo doors to the complete analysis of fuselage and wing design for FAA approval.

Return to top
Special Projects
Galleys, Integral Airstairs, Auxiliary Fuel Tanks, APU, Modular Crew Rest Compartments, Air Conditioning, Electronics / Radar cooling system, Passenger Lounges and Video/Entertainment systems for commercial and VIP aircraft operators are just some of the projects successfully completed and delivered by our engineering team. Our aircraft experience covers a multitude of aircraft types including the Boeing 707, 727, 737, 747, 757, 767, 777, 787; Gulfstream II, III, IV; McDonnell Douglas DC-8, DC-9, DC-10, MD-11, MD-87; Lockheed L-188, L-1011, C-130/L-382; Airbus A310 and A340, among others. In the area of avionic and electronic systems, our experience encompasses the installation and interface of inertial navigation, weather radar packages and SATCOM systems. Successful design, analysis and installation interface for propulsion and fuel system design and analysis is another service provided by our engineering team. From design and refinement of auxiliary fuel tank and auxiliary power unit systems through interface and installation engineering of fire retardant tank and delivery systems successfully employed in the fire fighting industry, Aerocon Engineering has a history of delivering on time performance.

Return to top
Flight Testing
In 1983, AEROCON added a large transport category aircraft to its inventory of engineering and test equipment. This combi-configured aircraft is designed to facilitate the quick installation and removal of flight test equipment and personnel support systems. In turn, it provides the ideal platform for flight testing and observation. In addition to our large transport aircraft test platform, we retain the use of small twin-engined aircraft, which are better suited to a variety of smaller scale flight test programs. Our experience in Power Distribution Unit (PDU) design and analysis make the modification of this aircraft a viable option for flight test projects. Aerocon Engineering also has various lease arrangements for the utilization of various specialized aircraft , in order to best meet your testing requirements. Current plans include an electro-optical system installation in a leased twin Aero Commander and an obstacle avoidance system for installation in a Bell 206. Through teaming arrangements with numerous manufacturers and external providers in the Van Nuys locality, we are able to manufacture any machined parts, small or large, necessary to carry out any test properly.

Return to top
Quality Management System
AS9100D and ISO 9001:2015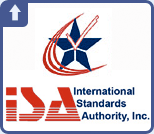 Aerocon's Quality Management System is AS9100D and ISO 9001:2015 registered. Our scope of registration includes the design, development, manufacture, and servicing of systems, equipment, and structures for the aerospace and aviation industries.
Download Aerocon's current registration certificate. (PDF, 320KB)
Title 14CFR Part 21.303(h) (FAA-PMA)
Aerocon's Quality Management System has also been approved by the Federal Aviation Administration. Aerocon maintains Parts Manufacturer Approval (PMA) on all parts for which we hold Supplemental Type Certification (STC). FAR 21.137 approval has been received. Please contact us for details.

Return to top
FAA Certification
Obtaining FAA certification for a product is a daunting task. Many potentially successful projects have been shelved due to this apparent bottleneck. However, obtaining type certification is possible for anyone with Aerocon's help. Our staff DERs will manage the project from start to finish. We have the resources to provide every type of analysis, flight and other testing, certification planning, project management, engineering, and manufacturing.
Regulatory Compliance
Aerocon, as an engineering services and manufacturing company with a history in the aerospace industry, will provide or obtain STC and PMA on the systems provided to the customer as required. This will be done at no additional charge to the customer.
Additional requirements for the Civil Aviation Authorities (CAA's) in the countries of maintenance and registration shall also be met when defined as a part of the certification program. Aerocon has significant historical experience in managing certification programs involving multinational regulating agencies (FAA, JAA, CAA, etc), and has Designated Engineering Representatives on staff to handle design approvals for STC projects. Additionally, Aerocon maintains a strategic network of Designated Airworthiness Representatives in order to accommodate needs for conformity inspections at various maintenance locations throughout Europe and the United States.
Project Management
Aerocon understands the needs of the completion center to have a high level of support from its external providers during such an extensive modification to the aircraft. A liaison engineer will work closely with the customer to determine the best schedule for training, oversight, and on-site interface, so that all customer needs are met, and responses to all issues occur within an acceptable time frame. Aerocon can also provide liaison engineering, project management, and training personnel to manage the program, provide training and interface with the customer.

Return to top
Quality Management System Requirements for External Providers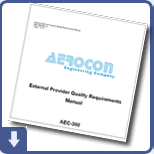 Aerocon Document No. AEC-300, "Quality Management System Requirements for External Providers", contains the general and specific requirements that may be imposed on any Purchase Order issued by Aerocon to an external provider. AEC-300 may change from time to time, and it is the external provider's responsibility to ensure that they have the most recent release.
Click here to download a copy of the manual.
(PDF, 260KB)

Return to top