Auxiliary Fuel Systems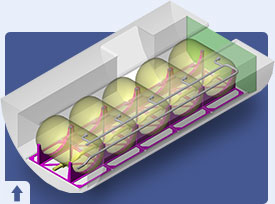 Aerocon's modular auxiliary fuel systems are an easy way to extend the range of your aircraft. A wide variety of configurations are available to match your operational requirements. With an extremely low 0.99 lbs installed weight per gallon of fuel carried, Aerocon's systems provide an optimal balance between fuel capacity and system weight.
The Aerocon system is designed for easy installation, operation, and maintenance, with state-of-the art electronics and robust manufacturing principles. And, like every product we sell, it's backed by Aerocon's uncompromising commitment to technical excellence and customer support throughout the aircraft life cycle.
---

On this page:
---
System Features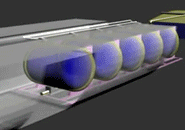 Capacity per customer requirement
Modular design allows for future expansion
Operation
Utilizes existing aircraft fueling/defueling system – only minor changes to operating procedures.
Automatic 'set and forget' operation with manual override
Fuel transfers automatically until the tank system is empty
Fuel quantity is incorporated into existing fuel quantity management (FQMS) displays
Lighter Weight
0.99 Lbs Weight per Gallon of Fuel Estimated (vs 1.67-2.0 Lbs for Box Tank)
Robust Design
Welded dual-wall construction is inherently less leaky and stronger than honeycomb box tank
Cylindrical shape is better suited to pressurization than box shape
Tank design validated on numerous aircraft types
No Fuel Odor in Cabin
State of the art automated cabin pressure isolation valve system prevents fuel vapor odor from entering the cabin while preserving the fuel economy gains of using cabin differential pressure as a tank pressurization source
Additional fail-safe check valves
Isolation valve system provides a positive seal and is more reliable than a check valve alone.
Easier to Maintain
Fuel system components are external to the tanks. No access panels required for wet inspections!
Level sensors are the only components located inside the tanks
More access space around tank connections due to the cylindrical shape
Installation optimized for each aircraft type
Aerocon's design concept is tailored to the specific operational and physical space requirements
of the intended platform, yet modular enough to provide additional expansion, satisfying a wide range of customer requirements.

Return to top
Data & Specifications
Fueling System
Forward or Aft Cargo Bay locations available
Modular Tank System – Multiple tanks operate as a single unit
Integrated into existing aircraft fueling system
Utilizes existing fuel/defuel points
Autonomous operation
Uses cabin differential pressure as primary tank pressurization source for fuel economy
Uses bleed air as a backup pressure source
Flight Deck Interface
Aux Fuel Control Panel monitors and operates the system.
Transfer of fuel is automatic when system is active, but can be manually stopped.
Aux Fuel quantity is incorporated into existing Fuel Quantity Management System (FQMS)
Light Weight
0.99 Lbs System Weight per Gallon of Fuel Carried
(1.67-2.00 lbs for box/conformal tank systems)
No Fuel Odor in Cabin
Automatic cabin pressure isolation valve system prevents fuel vapors from entering the cabin when differential pressure is used as the pressurization source.
Valve system provides positive, monitored closure to ensure proper operation.
Additional fail-safe check valve provides redundancy
SFAR-88 Compliant
Aerocon's system complies with all requirements with SFAR-88, including proper wire separation, ignition source elimination, and inspection

Return to top
Media Files
System Operation
System Schematic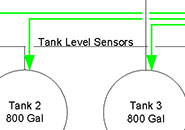 Typical system schematic, showing interface, control and sensor points.
Comparison to Other Systems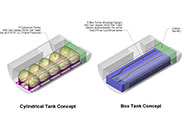 A comparison of the Aerocon Auxiliary Fuel System to the typical properties of other types of systems. (767 shown for reference, other aircraft models similar)
Modular Tank Unit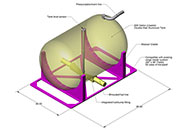 Description of the typical elements of a cylindrical tank module. (767 shown for reference, other aircraft models similar)

Return to top