Cargo Hoist System
Aerocon's Cargo Hoist System is a simple and effective add-on to any aircraft. Mounted on its own track on the ceiling of the cargo compartment, the hoist allows for easy loading of bulky, palletized or containerized items up to 1,000 lbs without the use of auxiliary ground service equipment. It is a must-have for any organization having operations located away from adequate or safe ground service equipment.
Allows loading of bulk and containerized cargo without ground service equipment
Requires no setup / easy to use; is mounted to the cargo ceiling ready-to-use
Trolley system allows loading on the ground or inside the aircraft
Installation does not obstruct standard container loading
Low installation weight
Installation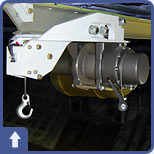 Installation of the hoist system is straightforward, consisting of an Aerocon-supplied installation kit with all materials required. Installed, the system does not affect the classification or safety of the cargo compartment. Safety interlocks prevent inadvertent operation of the hoist whenever the cargo door is closed.
Operation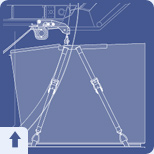 The hoist installation is operated from a simple control panel located near the cargo door. The integral trolley system allows loads to be lifted and maneuvered into the cargo bay by two persons (one to operate the hoist, and one to steady the load). Operation requires no setup; the hoist is simply unlocked and moved along its track from its stowed position on the ceiling. When stowed, the hoist does not obstruct typical loading of standard containers.

Return to top