Crew Rest Compartment
The Crew Rest Compartment is installed as 1-3 quick-change modules, requiring only standard pallet-loading equipment and hand shop tools. Modules are secured to the aircraft using the existing pallet handling system, with no additional hard points required. Service interconnections are centralized to allow for quick installation and removal, and numerous access panels allow access through the module walls to catwalk and air system components requiring frequent maintenance. This design allows a great deal of maintenance tasks to be accomplished without removal of the compartment.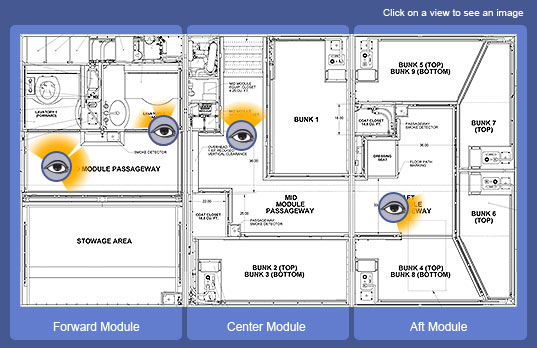 Spacious Quarters
Comfort Zone
Aerocon's Crew Rest features configurations of 3-10 berths, each with the following:
VIP-quality mattress
Safety belt
LED reading light
Individual cool air gasper
Heated air diffuser
Smoke detector
Privacy curtain.
Berths are designed with passenger comfort as a priority concern, with large openings, padded surfaces, and maximized use of space.
Lavatory Amenities
Expansive Stowage
Safety is a high priority in the Crew Rest Compartment. The system is physically isolated from the cargo compartment environment, and protected from cargo fire. The integral smoke detection system automatically isolates the CRC air, water, and electrical systems from the aircraft in case of fire. Smoke detection and CRC access door status is monitored from panels in the flight deck, and the optional automatic fire suppression system (knockdown / inerting) can eliminate the need for manual fire fighting.

Aerocon worked closely with the Federal Aviation Administration to establish the safety standards for the Lower Lobe Cargo Compartment, the first of its kind combining a large occupant complement, full-featured lavatories, and Class B stowage, and is the only company in the world offering this system with STC, configured to your requirements.

Return to top